Are you a hopeless romantic with a soft spot for laughter, love, and happy endings? Then look no further, because we have compiled a list of the best rom com books that will warm your heart and tickle your funny bone.
From quirky protagonists to charming love interests, these novels are perfect for those who appreciate both romance and humor. Get ready to fall in love with these captivating stories that showcase the ups and downs of love with a healthy dose of laughter.
List of Top Books
1. The Rosie Project
 Author: Graeme Simsion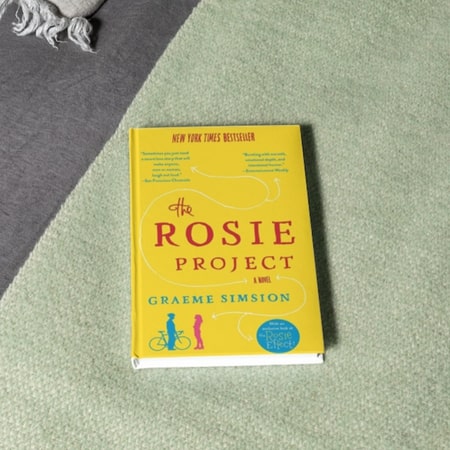 Don Tillman is a man who prides himself on his logical and orderly approach to life, but when it comes to matters of the heart, he is hopelessly lost. Despite his extensive knowledge of genetics, he has never been able to secure a second date, and his social awkwardness has convinced him that he is simply not wired for romance. That is until he embarks upon The Wife Project, a quest to find the perfect partner using his scientific method.
However, when Rosie Jarman enters his life, all of Don's carefully constructed plans are thrown out the window. Despite her many flaws, Don cannot help but be drawn to the fiery and intelligent woman who is on a mission to find her biological father. 
As he helps her with her Father Project, an unlikely romance begins to bloom. Don is forced to confront the fact that love cannot be reduced to a series of checkboxes and that sometimes the best things in life come in unexpected packages. The Rosie Project is a heartwarming and hilarious tale of love, life, and the pursuit of happiness in the face of overwhelming challenges.
2. The Hating Game 
Author: Sally Thorne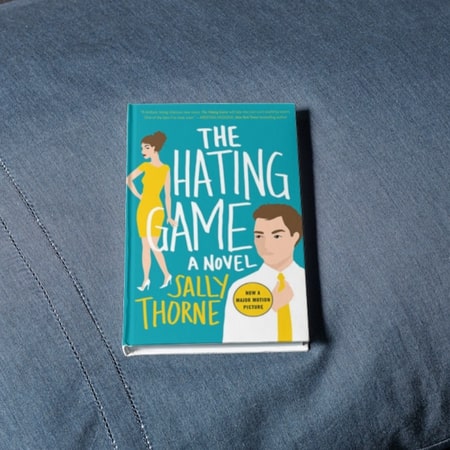 Lucy Hutton is a firm believer that nice girls can finish first, but her charming and accommodating nature is put to the test when it comes to her arch-nemesis, Joshua Templeman. 
Despite her best efforts, she can't seem to win him over, and the feeling is mutual. Their shared office space has become a battlefield, with never-ending games of one-upmanship that have become an addictive and ridiculous part of their daily routine.
But when a new promotion is on the line, the stakes become higher than ever before. Lucy can't let Joshua win, and she's willing to do whatever it takes to come out on top. However, when an innocent elevator ride turns into a steamy kiss, Lucy begins to question everything she thought she knew about Joshua. 
Maybe he's not the cold and intimidating enemy she thought he was. Maybe there's more to him than meets the eye. Or maybe it's just another one of his games. The Hating Game is a witty and charming romantic comedy about the thin line between love and hate, and the unexpected ways that two people can fall for each other.
3. The Flatshare
 Author: Beth O'Leary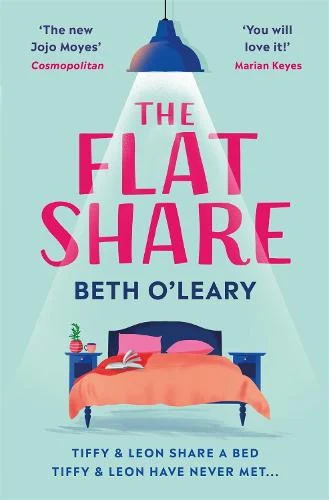 When Tiffy Moore answers an ad for a flatshare, she never expected to end up sharing an apartment with someone she's never met. But after a bad breakup and a desperate need for a place to live, Tiffy is willing to try anything. 
Leon, a night shift worker, will occupy the apartment during the day, while Tiffy has it to herself at night and on weekends. They'll never have to meet or even cross paths. It seems like the perfect solution for both of them.
However, as they start leaving notes for each other around the apartment, a friendship begins to form, and soon, they find themselves falling for each other. But the fact that they've never met and are technically just roommates makes things complicated. 
Is it possible to fall in love with someone you've never seen? And even if it is, is it a good idea to pursue a romantic relationship with your roommate? The Flatshare is a heartwarming and charming novel about two people who find love in the most unexpected way and the challenges they face when their unconventional relationship starts to evolve into something more.
4. To All the Boys I've Loved Before
Author: Jenny Han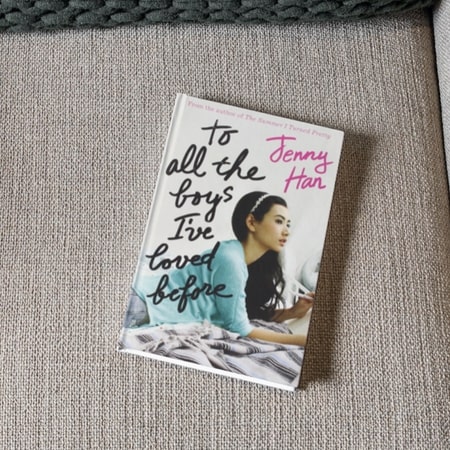 To All the Boys I've Loved Before is not just a beloved New York Times bestselling novel, it's also a major motion picture on Netflix and the inspiration for the highly anticipated spin-off series, XO, Kitty, coming to Netflix this fall. With its charming characters and heartwarming romance, it's no surprise that this book was named one of Time's Best YA Books of All Time in 2021.
Lara Jean Song is just like any other sixteen-year-old girl, except for one thing: she keeps a hatbox full of love letters that she's written to all the boys she's ever loved. These letters are her deepest, most private thoughts, and she never intends for anyone to read them. But when the letters are mysteriously mailed out, Lara Jean's world is turned upside down as her crushes start confronting her one by one. 
Suddenly, her imaginary love life becomes all too real, and Lara Jean is forced to confront her feelings head-on. To All the Boys I've Loved Before is a delightful and heartwarming tale about first love, growing up, and the power of honesty and vulnerability.
5. The Kiss Quotient 
Author: Helen Hoang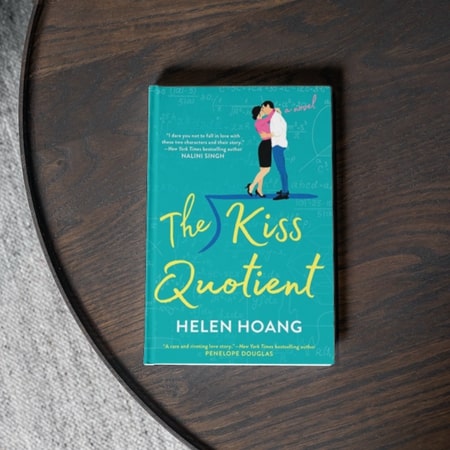 Stella Lane is a brilliant mathematician who believes that everything in the universe can be explained through algorithms and equations. She's successful in her job, predicting customer purchases with precision, but when it comes to dating, she's inexperienced and unsure of herself. 
To remedy this, she hires the services of Michael Phan, a charming and handsome escort who agrees to help her learn everything she needs to know about sex and relationships. At first, Stella is hesitant and awkward, but with Michael's patient guidance, she begins to explore her sexuality and learn what she likes. 
As they spend more time together, their relationship evolves into something more than just a business transaction. Despite their differences, they start to understand each other on a deep level, and Stella begins to realize that love is more than just a logical equation. The Kiss Quotient is a funny and heartfelt novel about two people who discover that sometimes, the best things in life come from unexpected places.
6. Attachments 
Author: Rainbow Rowell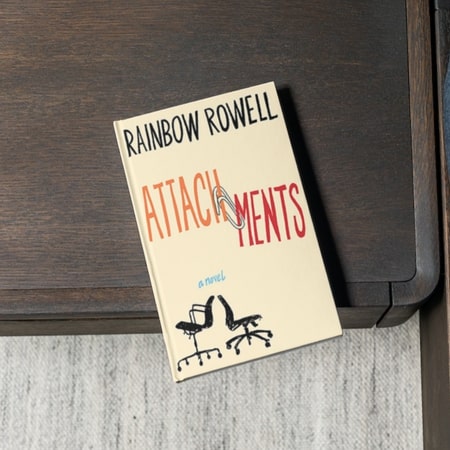 Beth and Jennifer are two coworkers at a newspaper who spend their days exchanging emails filled with gossip and personal stories. Even though they know their company monitors their emails, they can't resist sharing their lives with each other. 
Jennifer confides in Beth about her struggles with starting a family, and Beth tells Jennifer everything about her life. But little do they know, their emails are being read by someone unexpected.
Lincoln is an internet security officer who spends his days sifting through company emails. But when he comes across Beth and Jennifer's messages, he can't help but be drawn into their world. He's entertained by their stories and captivated by their lives. 
As he reads their emails, he begins to fall for Beth, but he knows he can never reveal himself as the person who reads her emails. Despite his reservations, he decides to take a chance and follow his heart, even if it means taking a risk on someone he's never met. 
Attachments is a witty and charming debut novel about the power of connection and the magic of falling in love with someone who brings out the best in you, even if you've never met in person.
7. Beach Read 
Author: Emily Henry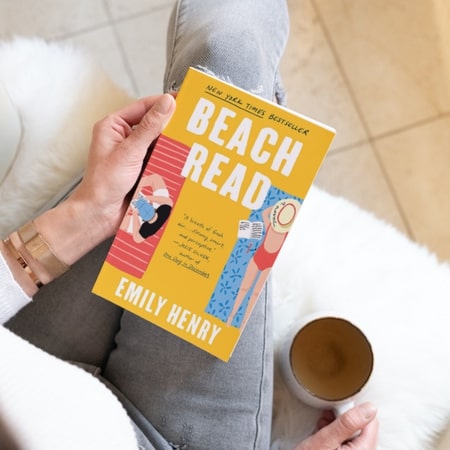 From the Number One New York Times Bestselling Author of People We Meet on Vacation comes a captivating and original love story that will leave you breathless. It is a story about Augustus Everett and January Andrews, who are two writers who couldn't be more different. 
Augustus is a celebrated author of literary fiction, while January writes best-selling romance novels. They have nothing in common except for their writer's block and a shared summer living in neighboring beach houses.
But when they strike a deal to help each other break out of their creative ruts, they end up discovering something unexpected: each other. As they take each other on field trips and adventures, they find themselves falling in love. But they've made a pact not to let their feelings get in the way of their writing. 
Will they be able to keep their promise, or will love to upend everything they thought they knew about happily ever afters? Beach Read is a stunning and layered novel that will make you believe in the power of love, even when you least expect it.
8. You Deserve Each Other 
Author: Sarah Hogle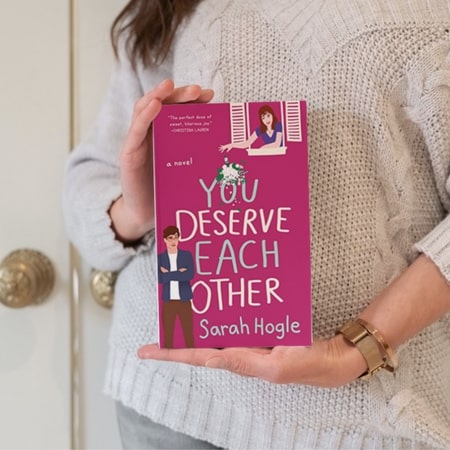 In this wickedly funny debut romantic comedy, Naomi Westfield finds herself engaged to her perfect fiancé, Nicholas Rose. He's everything a bride could want – polite, well-mannered, and from an upstanding society family. 
But Naomi is utterly sick of him, and she wants out. The problem is that whoever ends the engagement will have to pay the nonrefundable wedding bill, and neither of them wants to foot the cost.
When Naomi discovers that Nicholas has also been feigning contentment, they enter into a battle of pranks, sabotage, and emotional warfare. But as their war escalates, Naomi finds herself having fun with Nicholas in a way she never expected. 
As they get to know each other on a deeper level, Naomi begins to wonder if maybe she's been wrong about him all along. With the wedding countdown looming, will Naomi and Nicholas end things for good, or will they realize that they're meant to be together? This hilarious and heartwarming novel will have you rooting for the most unlikely of couples.
9. Red, White & Royal Blue 
Author: Casey McQuiston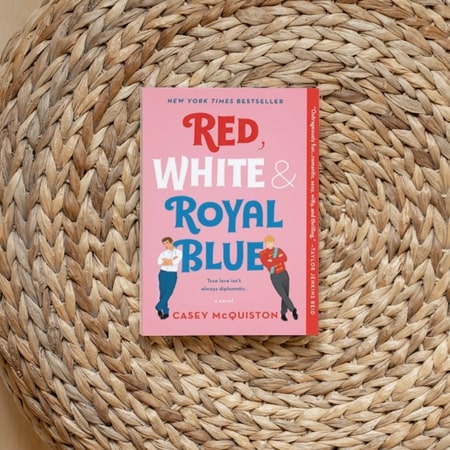 Alex Claremont-Diaz has it all – he's handsome, charismatic, and a genius. But when his mother becomes President of the United States, he becomes a millennial-marketing dream for the White House. The only problem is that Alex has a longstanding feud with the actual British prince, Henry. When a photo of them in a fight goes viral, U.S./British relations take a turn for the worse.
To fix the situation, family and handlers devise a plan for a truce between Alex and Henry. At first, their friendship is fake and purely for show, but it soon grows into something deeper and more dangerous. 
Alex finds himself falling for Henry, and they begin a secret romance that could upend two nations. Casey McQuiston's Red, White & Royal Blue is a beautiful and heartwarming novel that proves that true love knows no boundaries, even between rival nations.
How to Pick an Ideal Rom Com Book?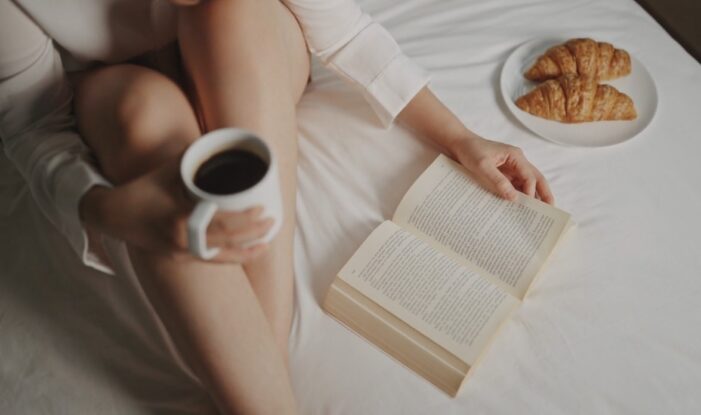 Consider Your Mood
When selecting the best rom-com book, it's important to first consider your mood. Are you looking for a heartwarming story that will leave you with a smile on your face? Or are you more in the mood for a laugh-out-loud, slapstick comedy that will have you chuckling through every chapter? Once you've identified the kind of mood you're in, you can narrow down your options to those books that will best cater to your emotional needs and desires.
The Romance Factor
The romance factor is a crucial aspect of any good rom-com book. As a reader, it's essential to decide what level of romance you're looking for – whether it's a slow-burning, intense connection or a more light-hearted, flirtatious rapport. 
Pay attention to the chemistry between the main characters, as this will significantly impact your enjoyment of the story. Additionally, consider whether you're interested in reading about traditional or unconventional romantic relationships, as this can further refine your search for the perfect rom-com book.
Humor Style
Not all rom-coms are created equal when it comes to humor. Some books focus on witty banter and clever repartee between the characters, while others incorporate situational humor or slapstick comedy. 
To choose the best rom-com book for you, it's important to identify your preferred style of humor. Are you a fan of dry, sarcastic wit or do you prefer more lighthearted, silly jokes? Knowing your personal taste in humor will help you find a book that keeps you entertained and laughing throughout.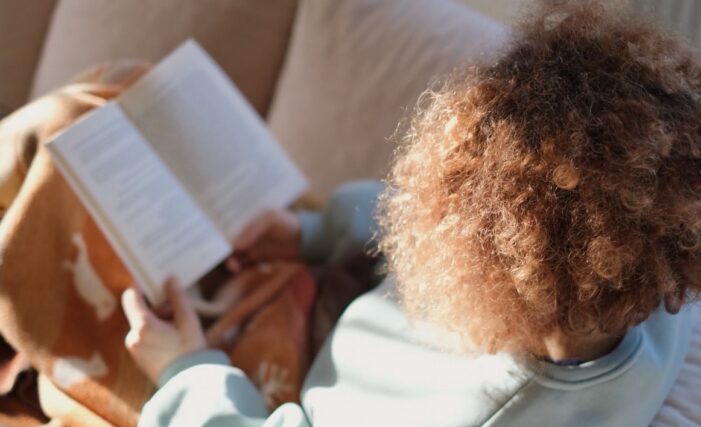 Setting and Time Period
Another aspect to consider when picking the best rom-com book is the setting and time period. Some readers may gravitate towards contemporary stories set in bustling cities, while others might prefer historical romances set in a different era. 
The setting and time period can greatly influence the tone and atmosphere of a story, so it's essential to consider your preferences in this area. Choosing a book with a setting and time period that you find intriguing will enhance your overall enjoyment of the story.
Author's Voice and Writing Style
Lastly, the author's voice and writing style can play a significant role in your enjoyment of a rom-com book. Each author has a unique way of telling a story, and finding one that resonates with you is key. Read samples or reviews to get a sense of the author's voice and writing style, and consider whether it aligns with your preferences. 
Some readers may prefer a more lyrical, descriptive writing style, while others might enjoy a straightforward, fast-paced narrative. Identifying the writing style that speaks to you will ultimately help you find the best rom-com book for your taste.
Final Words
The world of rom com books offers endless possibilities for laughter, love, and heartwarming moments. From quirky characters and laugh-out-loud situations to tender moments and swoon-worthy love stories, these novels are sure to captivate readers and leave them with a smile on their faces. 
Whether you're a seasoned fan of romantic comedies or new to the genre, our list of the best rom com books is the perfect starting point for your next literary adventure. Happy reading!