Chick lit is a genre of fiction that focuses on the lives of young women and their struggles with relationships, careers, and family. It's a term that was coined in the late 1990s and has since become a staple of women's literature.
If you're a fan of this genre, you'll be pleased to know that there are many excellent books available. In this blog post, we'll be taking a look at the top 10 chick lit books of all time.
The All-Time Best Chick Lit Novels
1. Bridget Jones's Diary
Author: Helen Fielding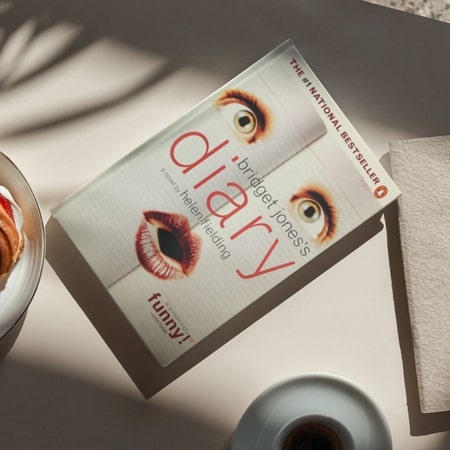 Bridget Jones's Diary is a hilarious and relatable chronicle of the never-ending search for self-improvement. Bridget is a single girl who has had enough of living her life on the edge, constantly trying to make things better.
Her journey to self-improvement is fraught with hilarious mishaps and misadventures as she tries to make the most of her single life while also looking for a responsible adult to form a functional relationship with.
Caught between the extremes of her Singleton friends and the Smug Marrieds, Bridget finds herself in a constant struggle to keep her life on track. Her gym visits turn into sandwich runs, her attempts at forming relationships end in disaster, and her attempts to program the VCR turn into a nightmare.
Through it all, Bridget keeps her readers in stitches with her sharp wit and self-deprecating humor. It's no wonder that readers everywhere see themselves in Bridget and shout, "Bridget Jones is me!"
2. The Devil Wears Prada
Author: Lauren Weisberger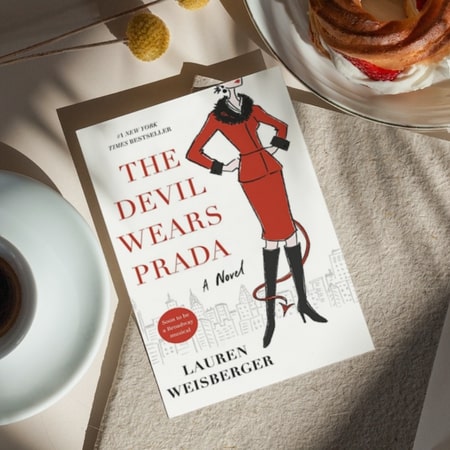 The Devil Wears Prada is a classic chick lit book that follows the trials and tribulations of Andrea Sachs, a small-town girl who lands a job as the assistant to Miranda Priestly, the high-profile editor of Runway magazine. The book was such a great hit that they even made the movie! But, of course, the book is always better.
Andrea finds herself thrust into a world of high fashion, surrounded by beautiful people clad in designer labels from head to toe. It's a world where even the air seems to smell like Chanel No. 5, and where Miranda can make even the most confident person cower in fear with a single glance.
Andrea is tested to her limits as she struggles to keep up with Miranda's demands, which include everything from getting her coffee to tracking down the latest couture gown. But Andrea soldiers on, her eyes firmly fixed on the prize of a glowing recommendation from Miranda that will land her a job at any magazine she desires.
As the demands become more and more unreasonable, Andrea starts to wonder if the job is worth the toll it's taking on her sanity and her soul. The Devil Wears Prada is a hilarious and entertaining ride through the world of high fashion and the sacrifices that people make in pursuit of their dreams.
3. Something Borrowed
Author: Emily Giffin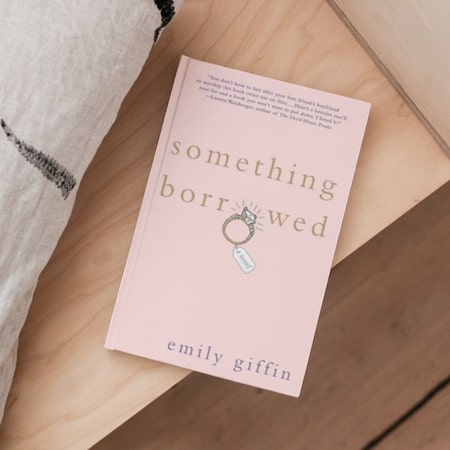 Something Borrowed is a book that explores the complexities of female friendships and romantic relationships. Rachel White is a classic good girl, always following the rules and playing second fiddle to her best friend, Darcy.
But when Rachel confesses her feelings for Darcy's fiancé, everything changes. Suddenly, she is torn between her heart and her conscience, and she must make a choice that could change the course of her life.
As the wedding approaches, events spiral out of control, and Rachel finds herself in a complicated web of love, loyalty, and betrayal. The book is a smash-hit debut novel that will resonate with anyone who has ever had a complicated love-hate friendship.
It's a powerful exploration of the bonds that tie us together and the choices that we must make in order to stay true to ourselves.
4. The Nanny Diaries
Authors: Emma McLaughlin and Nicola Kraus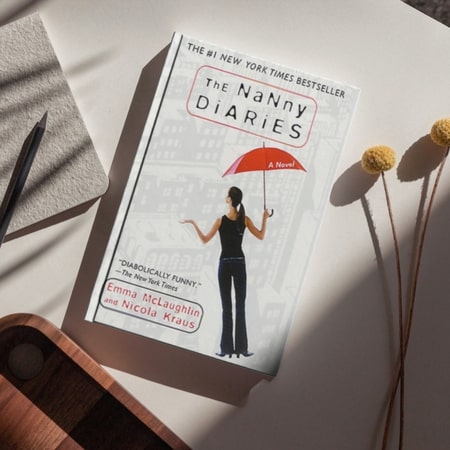 The Nanny Diaries is a hilarious and eye-opening look at the world of Manhattan's upper class. Written by two former nannies, Emma McLaughlin, and Nicola Kraus, the book deftly punctures the glamorous veneer of wealthy families and the struggles of those who care for their children.
The book follows the story of Nanny, a struggling NYU student who takes a job caring for the son of a wealthy family. She soon discovers that the job is far from glamorous, as she's expected to work sixteen-hour shifts and deal with a nap-deprived preschooler who likes to throw up on everything.
And that's just the beginning. Nanny must also navigate the eccentricities of the X family, including a wife who doesn't work or raise her own child and a husband who is always absent.
As the Xs' marriage begins to disintegrate, Nanny finds herself caught in the middle of a power struggle between Mrs. X and her husband. The book is a hilarious and often heartbreaking exploration of modern-day servitude as Nanny struggles to maintain her sanity and her sense of humor in the face of overwhelming odds.
It's no wonder that the book was adapted into a major motion picture starring Scarlett Johansson and Laura Linney.
5. Confessions of a Shopaholic
Author: Sophie Kinsella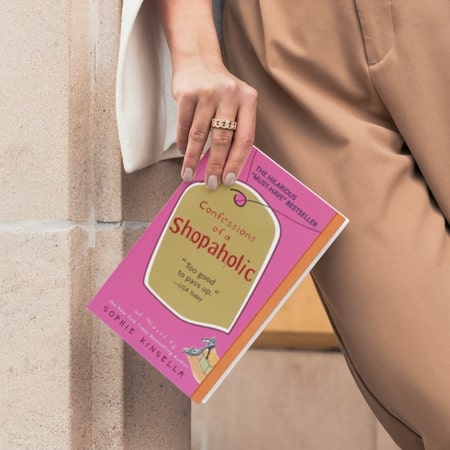 Sophie Kinsella is a master of chick lit, and her book Confessions of a Shopaholic is no exception. The book follows the story of Becky Bloomwood, a young woman with a fabulous flat in London and a closet full of designer clothes.
The only problem is that Becky can't actually afford any of it. Her job at Successful Saving magazine is boring and doesn't pay much, and she's constantly being chased by the bank for overdue payments.
But when a story arises that Becky actually cares about, everything changes. Her front-page article sets off a chain of events that transforms her life and the lives of those around her forever. The book is a hilarious tale of hijinks worthy of classic I Love Lucy episodes, and it's too good to pass up.
Sophie Kinsella has her finger on the cultural pulse, and her humor will leave readers giddy with laughter. It's no wonder that the book became a #1 New York Times bestseller.
6. Good in Bed
Author: Jennifer Weiner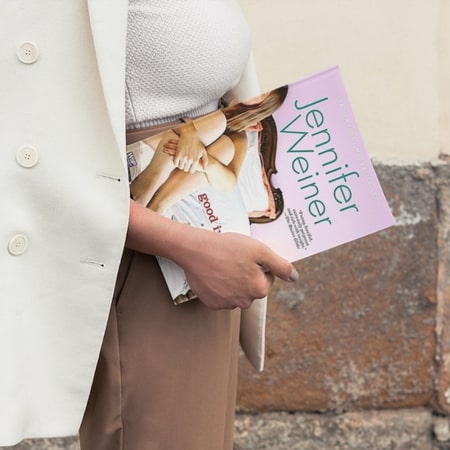 Good in Bed by Jennifer Weiner is a book that explores the themes of body positivity, self-love, and finding happiness after heartbreak. The story follows Cannie Shapiro, a plus-sized pop culture reporter who is perfectly content writing about other people's lives in the pages of the Philadelphia Examiner. But when she discovers that her ex-boyfriend has been chronicling their ex-sex life in a national women's magazine, everything changes.
Cannie is plunged into misery, but she also finds herself on an amazing journey of self-discovery. She learns to love herself for who she is, and she discovers the courage to chase her dreams and live her best life.
The book is radiant with wit, bursting with surprises, and written with bite and bittersweet humor. Jennifer Weiner's writing is gut-level real and laugh-out-loud funny, and she celebrates the courage of the human spirit in a way that will resonate with readers everywhere.
7. Can You Keep a Secret?
Author: Sophie Kinsella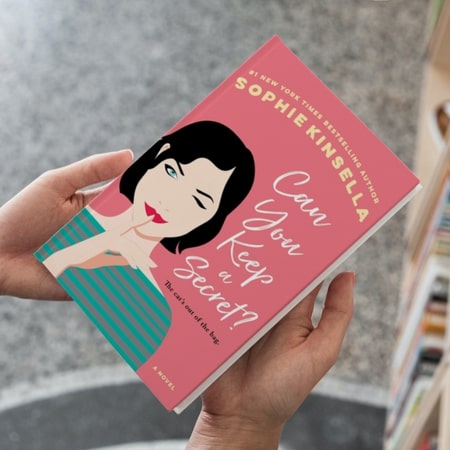 Can You Keep a Secret? by Sophie Kinsella is a book that will have readers laughing out loud and cringing in sympathy. The book follows the story of Emma Corrigan, a young woman with a huge heart, an irrepressible spirit, and a few little secrets.
Emma has secrets from her boyfriend, her mother, and even secrets that she wouldn't share with anyone in the world. But when she spills them all to a handsome stranger on a plane, she thinks that she's safe. Until she comes face-to-face with Jack Harper, the elusive CEO of her company, who knows every single humiliating detail about her.
The book is a hilarious and heartwarming exploration of the things that we keep hidden from the world and the power of honesty and vulnerability. Emma is a relatable and endearing character, and readers will find themselves cheering her on as she navigates the ups and downs of her life.
Sophie Kinsella's writing is playful and witty, and she has a knack for creating characters that readers can't help but fall in love with. It doesn't come as a surprise that Can You Keep a Secret? is a bestseller that will leave readers smiling long after they've finished the last page.
8. The Undomestic Goddess
Author: Sophie Kinsella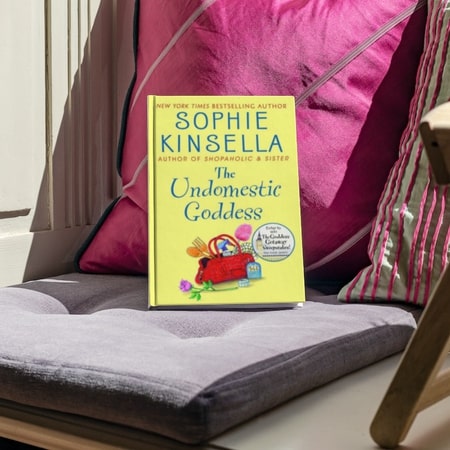 The Undomestic Goddess by Sophie Kinsella is a book that is both hilarious and heartwarming. The story follows Samantha Sweeting, a workaholic attorney who has just made a mistake so huge that it will wreck any chance of a partnership.
In the midst of an utter meltdown, Samantha walks out of her London office, gets on a train, and ends up in the middle of nowhere. She finds herself asking for directions at a big, beautiful house, where she's mistaken for an interviewee and offered a job as a housekeeper.
The only problem? Samantha has no idea how to work the oven, sew on a button, bake a potato, or even get the ironing board to open. But as she takes a deep breath and begins to cope, she finds love and learns to bake delicious bread.
The book is a delightful story about finding oneself in unexpected places and learning to embrace new challenges. But will Samantha's old life ever catch up with her? And if it does, will she even want it back? Readers will be hooked from the first page and cheer for her on until the very end.
9. Me Before You
Author: Jojo Moyes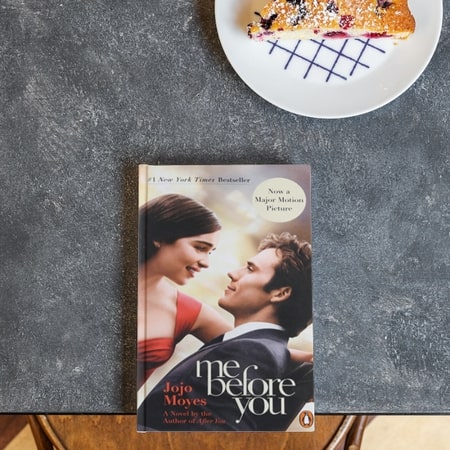 The story of this book follows Louisa Clark, an ordinary girl living an exceedingly ordinary life who takes a badly needed job working for Will Traynor, a former Master of the Universe who is now wheelchair-bound after an accident. Will has always lived a huge life – big deals, extreme sports, worldwide travel – but now he's pretty sure he cannot live the way he is.
At first, Will is acerbic, moody, and bossy, but Lou refuses to treat him with kid gloves, and soon his happiness means more to her than she ever expected. As she learns that Will has shocking plans of his own, she sets out to show him that life is still worth living. The book is a heartbreakingly romantic novel that asks the question: what do you do when making the person you love happy also means breaking your own heart?
Me Before You is a love story for this generation, and it brings to life two people who couldn't have less in common. The book is a testament to the power of love, and it shows that sometimes the most unlikely pairings can be the most beautiful. They made a movie adaptation that made millions cry over it.
Jojo Moyes's writing is playful, heartfelt, and poignant, and she will have readers laughing, crying, and feeling all the emotions in between. It's no wonder that Me Before You has become a modern classic that readers will treasure for years to come.
10. The Help
Author: Kathryn Stockett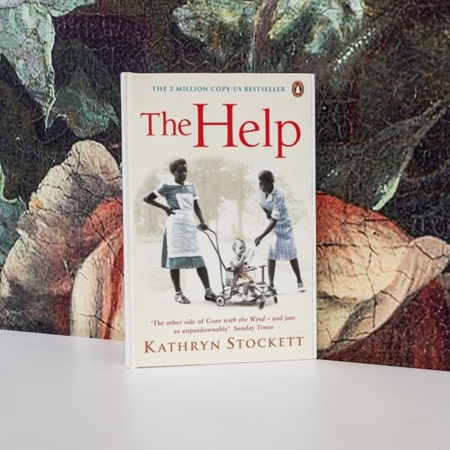 The Help by Kathryn Stockett is a bestselling novel that has also been adapted into an Academy Award-winning film. It tells a timeless and universal story about the lines we abide by and the ones we don't. The book was even nominated as one of America's best-loved novels by PBS's The Great American Read.
Set in 1962 Jackson, Mississippi, the story follows Aibileen, a black maid who has always taken orders quietly, but now she's unable to hold back her bitterness. Her friend Minny has never held her tongue but now must somehow keep secrets about her employer that leave her speechless.
Meanwhile, white socialite Skeeter has just graduated college and is full of ambition, but without a husband, she's considered a failure. Together, these seemingly different women join forces to write a tell-all book about work as a black maid in the South, which could forever alter their destinies and the life of a small town.
The Help is a poignant and important story that tackles issues of race, power, and inequality with honesty and heart. Readers will be moved by the struggles and triumphs of the three women and the impact they make on the world around them.
How to Pick the Perfect Chick Lit Book?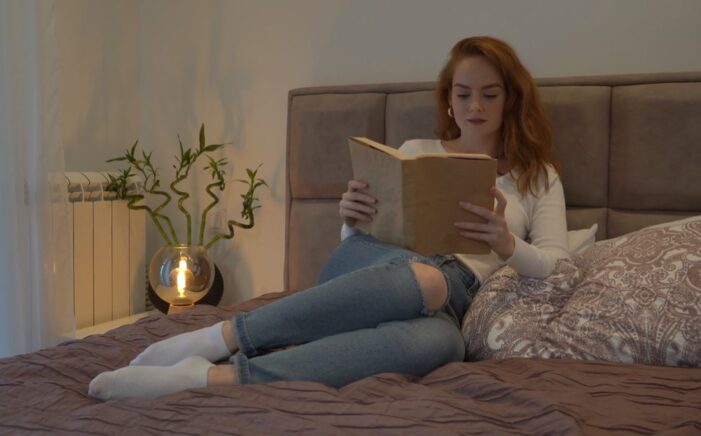 Chick Lit books are a great way to escape into a world of romance, humor, and relatable female characters. But with so many options available, it can be difficult to pick the perfect one. Here are some tips for selecting the ideal title:
Consider Your Mood
The first step in selecting a Chick Lit book is to consider your mood. Are you looking for a light and fluffy romance or a more serious story with complex characters? Do you want something that will make you laugh out loud or tug at your heartstrings? Understanding what kind of story you are in the mood for will help you narrow down your options and find the perfect book.
Read Reviews
Once you have an idea of what kind of book you want to read, it's time to start reading reviews. Look for books with high ratings and positive feedback from other readers. If there are specific themes or elements that you enjoy in this genre, such as a strong female lead or a funny and witty narrative, look for reviews that highlight those aspects.
Check Out Bestseller Lists
Another great way to find the perfect book is to check out bestseller lists. These lists can give you a good idea of what books are currently popular and well-received by readers. You can also look for books that have won awards or been highly recommended by respected sources.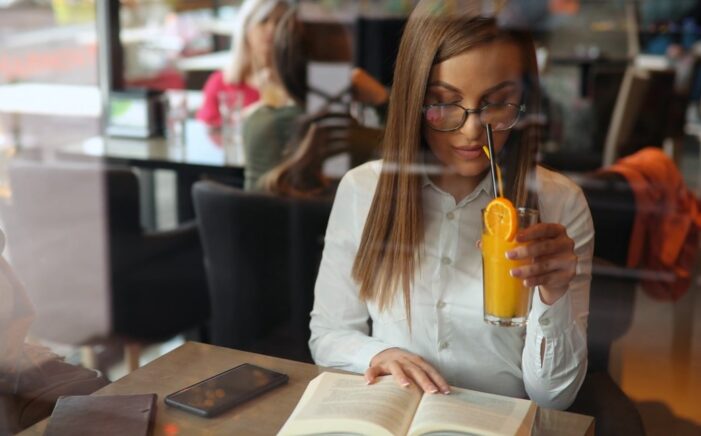 Consider the Author
If you have enjoyed Chick Lit books in the past, consider checking out other books by the same author. Many authors have a unique writing style and a narrative voice that readers enjoy, so if you liked one book by an author, chances are you will enjoy others as well. You can also research authors online to find out more about their background and writing style before choosing a book.
Read Excerpts
Finally, before committing to a book, take advantage of any excerpts that are available. Many online bookstores offer a preview of the first few chapters of a book, which can give you a good idea of whether or not you will enjoy the story and writing style. If there are no excerpts available, consider borrowing the book from a library or a friend before making a purchase.
Final Words
These are the top 10 chick lit books of all time. Whether you're looking for a fun and lighthearted read or a book that will make you think and feel deeply, there's something on this list for everyone. So pick up one of these books today and get ready to be transported to a world of laughter, tears, and love.
Be sure to check out our website chicklitbooks.com for more books that you will love!